One of the things that really blew my mind when I first saw Dali's work in person was the scale of the paintings.
It one thing to look at a plate in a book on art, but when you stand before a painting in a gallery it's a totally different experience. It's like the painting is suddenly a real thing and not just something left over in your imagination like fragments of a dream. When you are looking at a photograph of a painting in a book you subconsciously imagine the size of the painting (at least I do). And even though there is usually a size under the image, I still had all of these predetermined dimensions in my head. So, when I saw my first Dali paintings I discovered some that I had imagined were a couple feet wide were actually inches across, and others like The Hallucinogenic Toreador were up to 13 feet tall.
I've met my share of people who are disgusted by Dali, but I believe the man was a genius. Everything he did was on a grand scale – from the seemingly minuscule where he used a small brush with all but a couple bristles plucked out to the enormous ceilings at the Dalí Theatre-Museum. He never seemed to be constrained by size.
Salvador Dali had a house in Port Lligat, He lived here for most of his life, from 1930 to 1982. Port Lligat is a small fishing village located on the Costa Brava of the Mediterranean Sea, in the municipality of Cadaqués in Catalonia, Spain. Currently the house is a museum - Salvador Dalí House - Portlligat Museum. The "House" was originally several small fishermen huts that Dali bought up and used to create this incredible home which is maintained exactly as it was when he lived there. I did notice that all books had generic assorted colored covers on them (Or possibly the actual books had been removed and these substituted).
You can see the last couple paintings Salvador was working on – his chair, paints and brushes left as they were. He had a special apparatus built where he could raise and lower large paintings through a slot in the floor. He did the same thing in a New York hotel once.
Luckily, we had a great tour guide who was very knowledgeable and also impressed by how much I knew about Dali, and he did me a favor. At one point he whispered that I should drop back out of view of the rest of the group and sneak up a tiny flight of stairs where I could go up on the roof. From there I could see a large man made up of found objects that I don't think you could see from the ground. The view was amazing up there.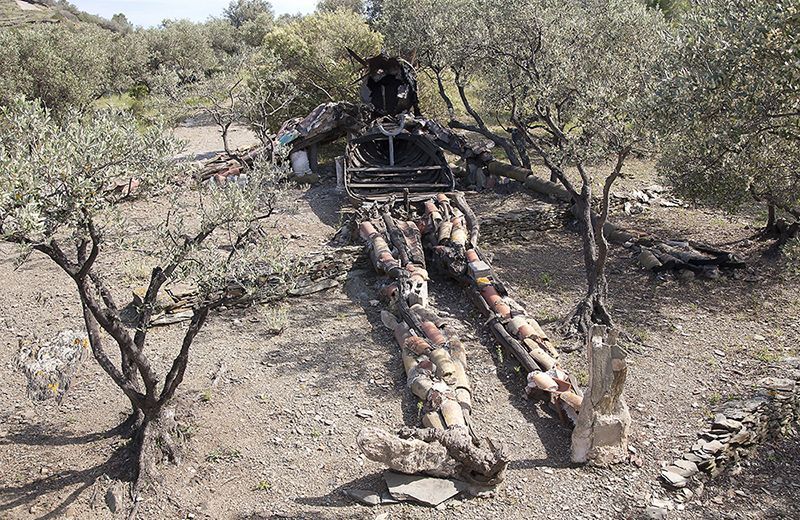 I would love to stay in Port Lligat for a few days someday. Get up early and go for a swim in the warm Mediterranean, find some sea urchins and eat them right out of the shell while drinking some Spanish cognac. It's definitely a peaceful place, and other than the museum there's not much else to see there other than a church which we unfortunately did not have enough time to visit.